VIETNAMESE-AMERICAN RENEWS SEARCH FOR DAUGHTER ABDUCTED 34 YEARS AGO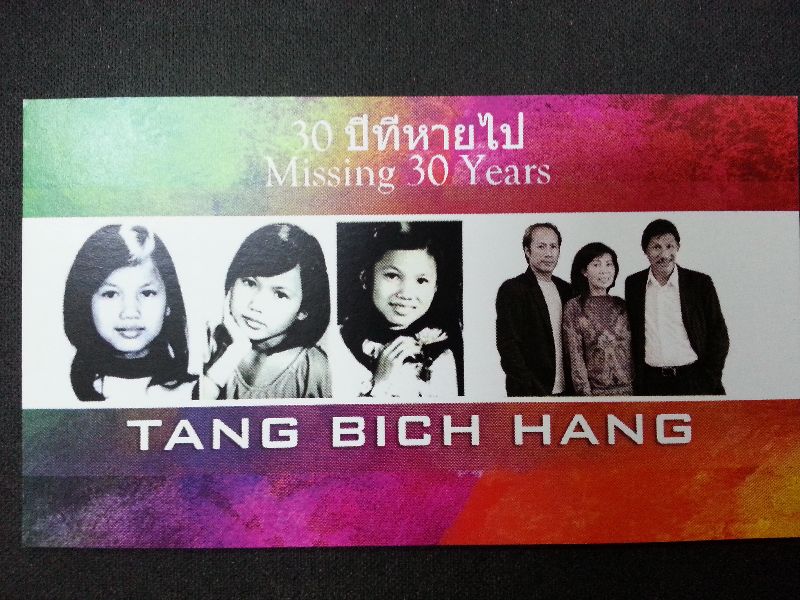 SONGKHLA — A Vietnamese-American man who was displaced in the aftermath of Vietnam War has asked Thais to help locate his daughter, who was reportedly abducted by sea pirates 30 years ago while the pair was en route to seek refuge in Thailand.
Can Tang, 73, said he and his daughter Tang Bich Hang, who was 13 at the time, were separated during their voyage from Communist-ruled Vietnam to Thailand in 1984.
Mr. Can and his daughter were on a boat with other refugees somewhere in Gulf of Thailand when a group of Thai pirates reportedly attacked and robbed their ship. Mr. Can said the pirates took Ms. Tang and two other women, despite his attempts to save them.
The refugees later landed in Malaysia and Mr. Can eventually made his way to Los Angeles, where he gained US citizenship. Mr. Can has been trying to locate his daughter for the last 20 years.
Speaking to reporters in Songkhla province today, Mr. Can asked Thais to help him reunite with Ms. Tang, who would now be 43 years old. Mr. Can said he is confident that Ms. Tang is still alive and believes she is living in Songkhla province.
Mr. Can also recently helped found the South East Asia Missing Children Foundation (SEAMCF) in 2013, which helps families reunite with missing children. SEAMCF has successfully located two missing persons so far and still searching for 90 others, Mr. Can explained.
"I am looking for ways to establish a branch of SEAMCF in Thailand and to extend our network to other countries in Southeast Asia, so that they can coordinate the search  and receive information about these missing Vietnamese," Mr. Can told reporters.
Mr. Can previously visited Thailand in 2012 in a similar effort to locate his daughter. In 1989, he also posted an advertisement in Bangkok Post newspaper and offered 7,500 US dollars for information leading to Ms. Tang.
Last year, two Vietnamese-American siblings arrived in Thailand to seek help from Thais concerning their sister, Fam Noch Bichtri, who also reportedly went missing during a sea voyage in Gulf of Thailand.
In the early 1980s, refugee boats headed for southern Thailand were frequently stopped by pirates. The United Nations Human Rights Council (UNHRC) began compiling statistics in 1981 and found that more than 80 percent of refugee boats en route to Thailand were attacked by pirates that year. Pirates killed at least 464 refugees, raped 535 women, and abducted 224 others in 1981, the UNHRC reported.